News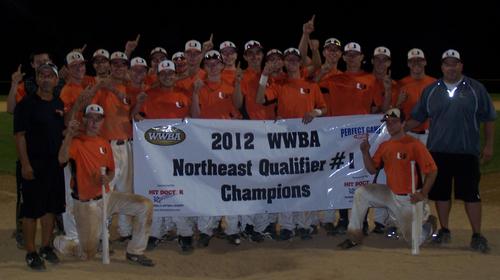 While the focus for Baseball U is placing players in college make no mistake about it that when the organization wants to focus on winning they can put up their share of championships.
The WWBA NE Qualifier is always one event that the team wants to go out and perform well in because of the reward of gaining a free bid to Jupiter.
This weekend the team did just that and won the organizations 5th Perfect Game Northeast Championship in Baseball U's first 7 years as an organization.
The team went undefeated in bracket play and on Monday if they were to obtain their goal of PG WWBA Northeast Champions all they would have to do is play 4 playoff games and win all of them. The players were at the field at 6:50 in the morning and did not leave the ballpark until 10:30 at night.
In the 4 playoff games the Baseball U squad scored 32 runs with good aggressive baseball and timely hitting. It was a total team effort. The boys were told that if they had a chance to win the event on Monday it was going to take strong will and a contribution from everyone on the team.
The team was entered as the Baseball U New England organization that is based out of Fairfield, Connecticut. The New England based organization added 4 pitchers and 1 position player from the New Jersey based Prospect team.
The objective was to throw as many pitchers as possible in the bracket play (12) and bounce back with fresh arms for the playoffs and the team did just that. The team threw 11 pitchers in the playoffs and the strategy paid off.
Offensively the team was lead by "Tournament MVP" Dominick Luongo who had 14 hits. Dominick made an adjustment after day 2 and was the spark the team needed. Currently Dominick who is a left handed hitting outfielder with a sub 7 60 time should get plenty of interest from schools after his performance.

One thing we always want our players to do is play hard, compete and never give up. Our players get better, learn to play the game. If everyone works on what they have to do on the field winning will take care of itself.

The Baseball U New England program is run by Pat Vigilio who is an associate scout for the San Francisco Giants. The national program is run by John Wells who to is involved in scouting for the Seattle Mariners. Both were on hand for the weekend coaching the young men and to see the players leave it all on the field is a memory that will last a lifetime.
Winning 4 games in a playoff round in one day will be something that everyone in the Baseball U family will never forget. Go U!