News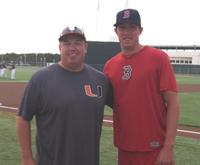 Baseball U sent two teams to the Perfect Game WWBA Underclass World Championships held in Fort Myers, Florida.
The experience was one that the players will take home with them and help them grow moving forward. Playing against some of the top high school underclass players in the country was a test unlike any other that most have experienced.
The Baseball U Texas Orange team composed of top prospects from 6 different states won their bracket and started the playoffs at the new Jet Blue Complex of the Boston Red Sox. The team had a 7:30AM visit from a former Baseball U alumni in the 2012 Boston Red Sox first round pick Pat Light. He was introduced to the team prior to his workout while attending instructional fall ball with the Red Sox.
The team won the game by the score of 1-0. The team received strong pitching in that game as well as the entire tournament posting a team ERA of 1.24. Pitching was the key to the team's success. 6 of the 9 pitchers for Texas Orange hit 85 or better with two of them topping out at 88MPH and one hitting 90MPH.
One of the players in Mitch Cavanaugh came back with a college scholarship and commitment to St John's University while pitching at 88-90.
In game two of the playoff round the team was in a battle and eventually bowed out of the tournament with a 4-0 loss to the eventual tournament champions the Florida Burn Orange.
The Baseball U Underclass team did not have the success on the field of Texas Orange going 0-4 in the event. There both bright spots and areas to work in for the young team of mostly freshman and sophomores. Strength was the biggest thing lacking for the young team and that will come in time. The highest recorded velocity for Texas Orange was 84mph and that came from a sophomore who has yet to play his sophomore season in high school.
This event was attended by over 200 college coaches from around the country. The Baseball U staff spoke to and was contacted by over 80 schools interested in many of their players. In one of the Baseball U Texas Orange games over 50 schools were in attendance including Vanderbilt, UNC, UVA, Monmouth, Boston College, UCF, Coastal Carolina, USC, ECU, St Joes, St John's, Seton Hall, Wagner, Oklahoma St who spoke to the staff at the field.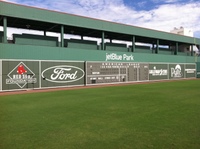 While it is nice to win at these events the big picture is helping the players become better ballplayers and helping them get into school. It was a great trip and we look forward to working with these players in the future.