News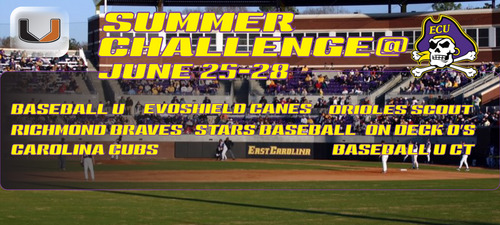 This is the 4th Annual Baseball U Summer Challenge. This years event will be held at ECU.
Last year the Evoshield Canes won the Championship in the 7th inning over Baseball U in a close 3-2 victory.
This year over 50 colleges are again expected to see 8 of the East Coasts best teams compete.
2015 Baseball U Summer Challenge Schedule
(All Games Held at East Carolina University)
| | | | | |
| --- | --- | --- | --- | --- |
| Thurs, June 25 | | | | |
| 1 | 6:00PM | Baseball U CT | vs | On Deck O's |
| 2 | 8:15PM | Baseball U | vs | Evoshield Canes |
| Fri, June 26 | | | | |
| 3 | 9:00AM | Stars Baseball | vs | Richmond Braves |
| 4 | 11:30AM | On Deck O's | vs | Carolina Cubs |
| 5 | 2:00PM | Baseball U CT | vs | Orioles Scout |
| 6 | 4:30PM | Baseball U | vs | Richmond Braves |
| 7 | 7:00PM | Evoshield Canes | vs | Stars Baseball |
| Sat, June 27 | | | | |
| 8 | 9:00AM | Carolina Cubs | vs | Baseball U CT |
| 9 | 11:30AM | Carolina Cubs | vs | Orioles Scout |
| 10 | 2:00PM | Orioles Scout | vs | On Deck O's |
| 11 | 4:30PM | Richmond Braves | vs | Evoshield Canes |
| 12 | 7:00PM | Stars Baseball | vs | Baseball U |
| Sun, June 28 | | | | |
| 13 | 9:00AM | 2 Seed | vs | 2 Seed |
| 14 | 11:30AM | 1 Seed | vs | 1 Seed |
| 15 | 2:00PM | 3 Seed | vs | 3 Seed |
| 16 | 4:30PM | 4 Seed | vs | 4 Seed |