News
Back in the fall of 2013 Baseball U received a phone call from Dave Kirilloff father of Alex Kirilloff asking to be invited to attend the Perfect Game World Wood Bat World Championships. Baseball U had never taken a sophomore to Jupiter and the World Championships before because of the high talent level at this event. Consider that over 250 pitchers hit 90MPH or better at this years event and you can see how a sophomore would be overmatched as is the case for majority of seniors let alone a sophomore.
With a need at that position in 2013 Alex was accepted through some video clips that was sent to him showing a young athletic player that hit for power to all fields. Alex attended and struggled in his first game down in Jupiter but then picked it up hitting doubles and not having any problems adjusting to the quality pitching.
Alex remained with Baseball U for the the 2014 and this past 2015 season and his performance on the field has drawn the attention of all Major League Baseball teams and has a chance to be one of the top position players taken in the 2016 MLB Draft.
Nobody has spent more time with Alex than Coach Wells who spent over 20 days driving with Alex on the southern road trip that included stops at UVA, UNC and Georgia. During that time Coach Wells realized that there is something special in Alex not only as a player but as a person. "Religion is very important to Alex and his family. Alex is always thinking about baseball and his approach to the game does not start on the field", said Wells.
Every player starts out as a name and number at events and it is what they do on the field that gets that name and number to mean something to scouts and coaches. Alex Kirilloff is a name that has blossomed but each year like spring flowers he seems to get brighter.
In 2015 Alex made a huge jump and was recognized as a Perfect Game All American Game team member. While at the event held at the home of the San Diego Padres Alex made his way into the HR Derby and won the event by finishing off the final round with his last 8 swings leading to the ball leaving the park while being crowned PG HR Derby Champion.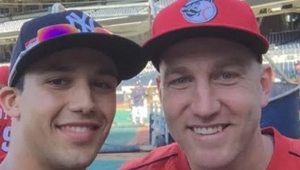 It is kind of ironic that Alex was the 2016 Amateur HR Champion and Todd Frazier who works out at the U Athletic Performance facility was the MLB HR Champion in the same year and both met each other this summer.
While Alex time with Baseball U as a player is over there are so many great things ahead for him. In this months issue of Baseball America Alex is featured with a photo and short article on him. Many scouts predict that Alex will be an early selection in the June MLB Draft.
Baseball U has had 6 former alumni that were 1st round selections in the MLB Draft. Alex is probably the most advanced and well rounded player with him being our first true 5 tool prospect. We never know what the future holds but one thing is for sure is that Baseball U has been blessed to have Alex for three years and he will be missed around the field.