News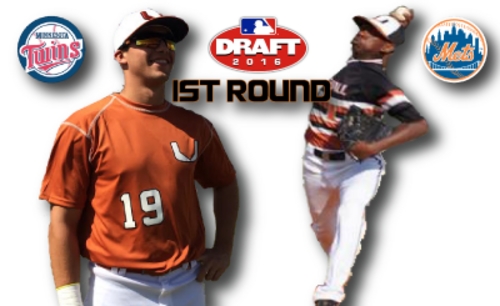 TWO MORE BASEBALL U ALUM SELECTED IN 1ST ROUND
Baseball U continued to show why they are considered one of the top travel organizations in the country with two more alum taken in the 1st Round of the 2016 MLB Draft.
With Alex Kirilloff going 15th overall in the 1st Round to the Minnesota Twins and Justin Dunn going 19th overall in the 1st Round to the NY Mets they became the organizations 6th and 7th first round selections in the past 5 MLB Drafts.
The organization is very proud of this accomplishment and we are very proud of the players and their success.
With two more days remaining in the draft Kirilloff and Dunn became the 75th and 76th players that have worn the Baseball U uniform drafted in the past 9 MLB Drafts.
Baseball U has now had 8 first round picks in the 9 MLB Drafts that Baseball U has been a part of. Both Kirilloff and Dunn join other first round draft picks and U Alum
Chris Shaw 1st Round SF Giants 2015
Mike Papi 1st Round Cleveland Indians 2014
Colin Moran 1st Round Miami Marlins 2013
Pat Light 1st Round Boston Red Sox 2012
Keon Barnum 1st Round Chicago White Sox 2012
Steven Matz 1st Round NY Mets 2009