News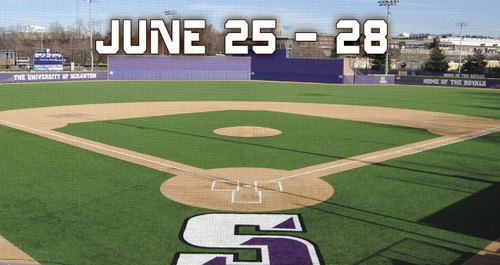 BASEBALL U KICKOFF CLASSIC RETURNS
Last year due to Covid-19 there was not a Kickoff Classic but it returns in 2021 and it's bigger than ever.

This year 21 Baseball U teams from 10 branches of the organization will take the field in two age brackets of 16U and 17U.

The 16U Bracket will be played on Friday and Saturday, June 24th and 25th with the 17U Bracket on the dates of Sunday and Monday, June 26th and 27th.
The format will be one 14 Inning Game for the 16U Teams and two 7 inning games for the 17U.

To make hitters more aggressive, batters will start with a 0-1 count and pitchers must throw a fastball their first pitch to a batter.

Also on the morning of Saturday, June 25th the Georgia Boot Camp will be held to help determine the the two organizational teams for 17U and 16U in Georgia. This workout will also be open to colleges to attend.
2021 Kickoff Classic Schedule
| | | | | |
| --- | --- | --- | --- | --- |
| | 16U BRACKET | | | |
| FRIDAY, JUNE 25 | | | | |
| 8:30AM | GAME 1 | U PA ANTRACITE | VS | U PA PHILLY |
| 12:00PM | GAME 2 | U PA CENTRAL | VS | U NORTH NJ |
| 3:30PM | GAME 3 | U PA SCRANTON TELLIP | VS | U CT |
| | | | | |
| SATURDAY, JUNE 26 | | | | |
| 1:45PM | GAME 4 | U JERSEY | VS | U NY |
| 5:15PM | GAME 5 | U PA POCONO | VS | U MARYLAND |
| | | | | |
| | | | | |
| | 17U BRACKET | | | |
| SUNDAY, JUNE 27 | | | | |
| 8:00AM | GAME 6 | U PA SCRANTON KROPA | VS | U MARYLAND |
| 10:15AM | GAME 7 | U PA ANTHRACITE | VS | U CT 2 |
| 12:30PM | GAME 8 | U JERSEY | VS | U NY |
| 2:45PM | GAME 9 | U PA CANZLER/GUY | VS | U CT 1 |
| 5:00PM | GAME 10 | U MARYLAND | VS | U NY |
| 7:15PM | GAME 11 | U PA PHILLY | VS | U JERSEY |
| | | | | |
| MONDAY, JUNE 28 | | | | |
| 8:00AM | GAME 12 | U CT 2 | VS | U PA ANTHRACITE |
| 10:15AM | GAME 13 | U PA POCONO | VS | U PA CENTRAL |
| 12:30PM | GAME 14 | U CT 1 | VS | U PA CANZLER/GUY |
| 2:45PM | GAME 15 | U PA CENTRAL | VS | U PA PHILLY |
| 5:00PM | GAME 16 | U PA SCRANTON KROPA | VS | U PA POCONO |
College Coaches may reach out to
John Wells at [email protected]