News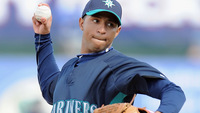 In week two of the winter workouts the players had the opportunity to work with some great schools and pitchers had the opportunity to work with a current Major League pitcher.
Making the trip to the workouts were UVA, Radford, Rider and UMBC.
Coach McMullan from UVA and former UVA infield standout and current assistant coach at Radford, Coach Werman gave the infielders a chance to experience the day to day process of a college infielder.
Outfielders were able to work on several aspects of the game with Rider assistant, Coach Reilly.
Coach Mumma from UMBC worked with the catchers touching on the finer points of catching. Mumma a former catcher for the Chicago White Sox brought some great drills for the catchers to further their play.
A special guest to work with the pitchers was current Major League pitcher Anthony Varvaro. Anthony was recently picked up by the Atlanta Braves and will report to camp on February 11th.
Baseball U would like to thank all of the coaches for attending and wish Anthony the best of luck with his new team, the Atlanta Braves.