News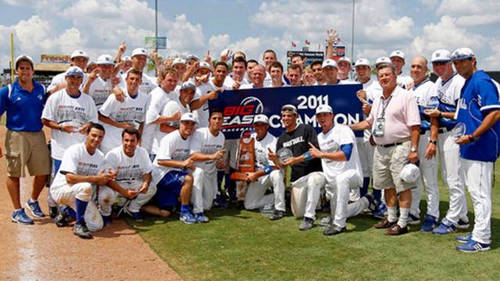 Two former Baseball U Alumni played a significant role in helping Seton Hall win the 2011 Big East Championship.
Both Ryan Harvey and Brian Gilbert received wins against the top seeded Connecticut Huskies. Ryan Harvey a sophomore pitcher from Manalapan high school had two appearances in the tournament. The first appearance had him pitch 4 scoreless innings before surrendering a run in the 12th inning to Connecticut. The Hall then bounced back in the bottom of the 12th to upset the Huskies. Harvey also closed out the championship game with 1.1 innings of work while striking out two and giving up no runs. Ryan was a member of Baseball U for three seasons and his fastball has been clocked as high as 95mph this season. His plus breaking ball makes him a high prospect for the MLB draft in 2012.
Brian Gilbert a freshman from Toms River North earned the win against UCONN and eliminated them from the championship tournament. Gilbert pitched 5 innings and only surrendered 2 runs. Gilbert has touched 93mph this season on the mound.
Both Harvey and Gilbert were All Shore players in high school and appeared in a combined 41 games this year for Seton Hall. On the 2011 roster there are a total of 5 Baseball U Alumni on the roster.